1000 Songs Challenge (Sep. 22, 2000 ~ June 22, 2014)
Come to Play (May 8, 2004 ~ Dec. 24, 2012)
Knee Drop Guru (Jan. 31, 2007 ~ Oct. 12, 2011, Nov. 29, 2012 ~ Aug. 22, 2013)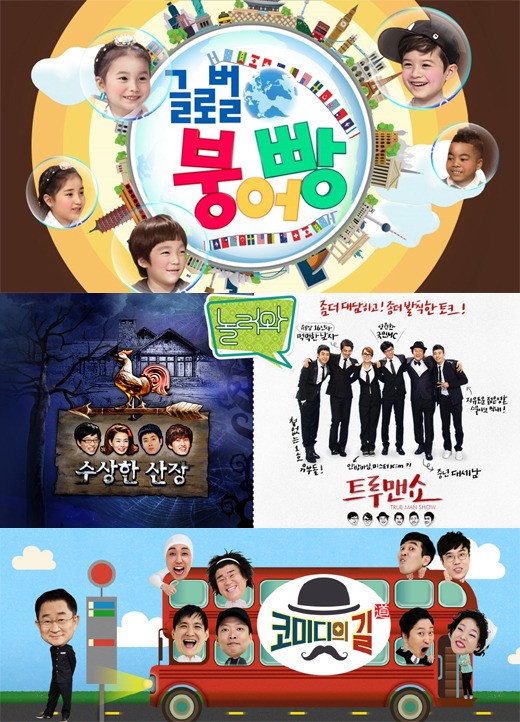 Star Junior Show (Feb. 21, 2009 ~ April 26, 2015)
Love and War (Oct. 22, 1999 ~ April 17, 2009, Nov. 11, 2011 ~ Aug. 1, 2014)
Comedy Road (May 11, 2014 ~ Sept. 28, 2014)
1. [+6150, -563] It was also a shame for Family Outingㅎㅎ
2. [+5611, -265] Come to Play was really funny.....
3. [+4304, -108] Why isn't WGM getting canceled? All the others are canceled.
4. [+3355, -174] Come to Play got ruined because they milked too much out of C'est si bon... they still had a bit of a chance at the end, but... the timing...
5. [+2123, -178] Star Junior Show was said to be all scripted....
6. [+497, -17] Let's cancel WGM. I can't take it anymore.
7. [+508, -34] It was a shame when Jihwaza, X-Man, Banjun Drama, 10,000 won Happiness, and Sponge were taken off air. Couldn't believe it when they canceled Sponge when it was so funny and informative..
8. [+435, -33] Salon de Raison was fun but it suddenly got canceled
9. [+374, -18] I didn't know 1000 Songs Challenge ended...
10. [+359, -22] There were a lot of fun ones like X-Man, Happy Togeher's Metal Tray Karoake Room, etc.