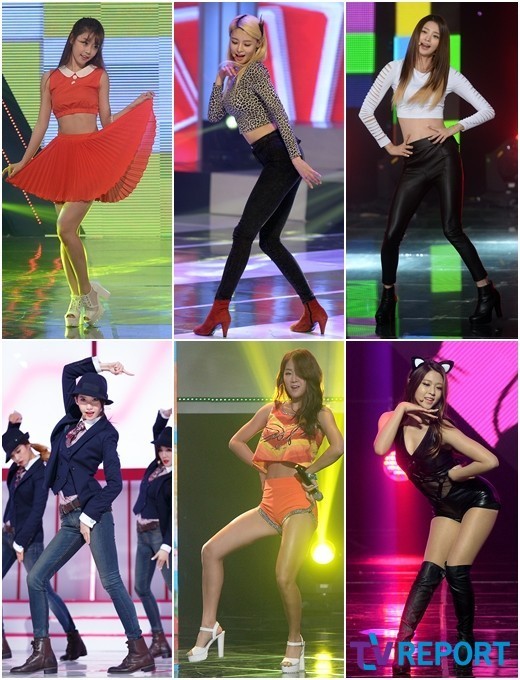 This year's girl group stages were hot. They accentuated their charms through different concepts: from Cat Woman to uniforms to skinnies, to office looks to name a few.
Instead of just blatantly sexy concepts, girl groups brought more specific concepts to the table.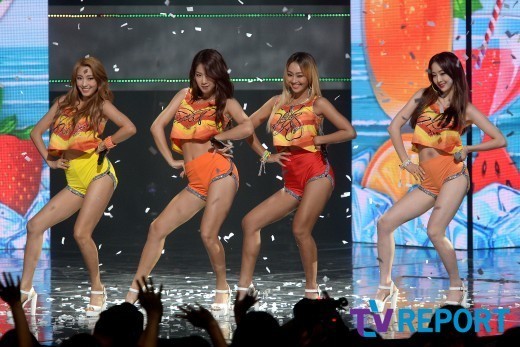 Capturing the hearts of men with smooth legs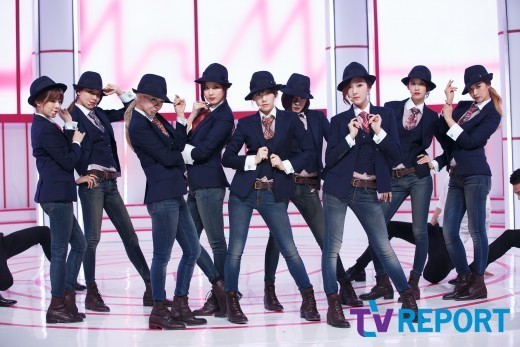 The keyword for the performances in 2014 is: smooth legs.
Sistar, SNSD, Hello Venus, EXID.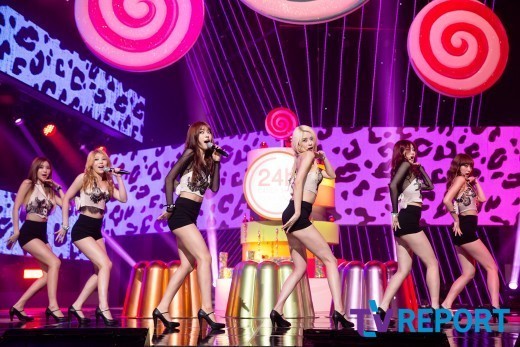 Sistar obviously boasts with the best legs, capturing everyone's attention. Also, their vacation fashion brought a fresh and cooling charm.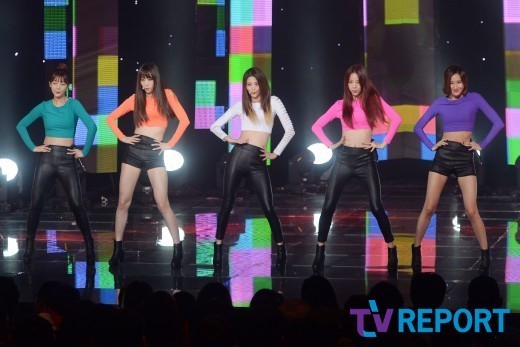 Loved by males and females, SNSD showed a more masculine charm. There were no skin exposure but they showed off their leg line in their skinnies.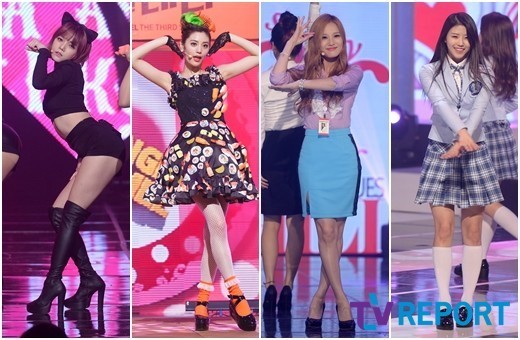 Hello Venus captured the hearts of countless men with their body line in 'Sticky Sticky'.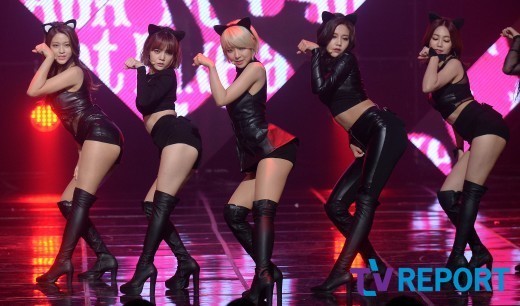 Through EXID's recent concept, they showed off their glamorous figures. They gained a lot of uncle fans with their sensual charms.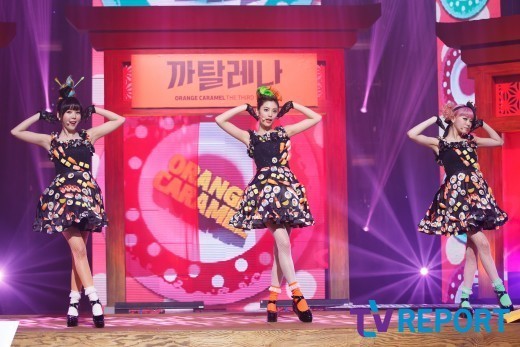 From cats to office workers to students. Specific concepts.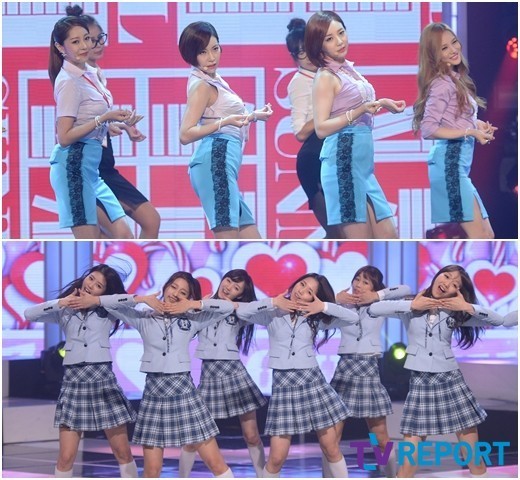 Stage performances are developing. Looks that can be easily spotted are changed to sexy concepts.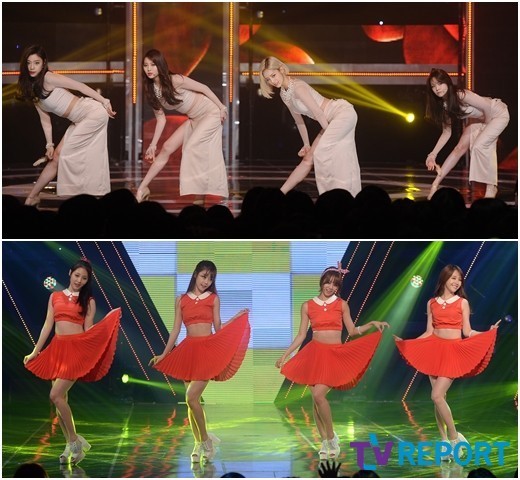 AOA is the queen of sexy. They leveled up with 'Cat Woman'. Lovable yet alluring, sexy yet bubbly. They became the trends.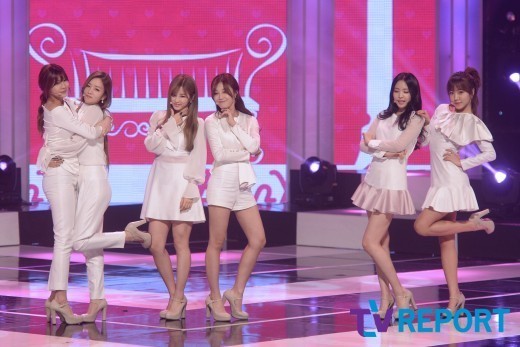 Orange Caramel turned heads with their food concepts. They used various foods such as sushi, juice, and candy and showed a variety of issue-making performances.
Sunny Hill dressed as office workers for a sexy concept and received lots of love.
Lovelyz debuted with the nickname, 'Post SNSD', and sported uniforms which shook the hearts of uncle fans.
Trend-dols Girls Day VS Innocent fairies A Pink
Girls Day received lots of love for 'Female President' and 'Expectations'. They once again changed for 'Something', with bold outfits and sexiness. They released 'Darling' in the summer, which showed their bubbly charms and rose confidently to the top rank of girl groups.
The queen of innocent charms, A Pink, put their goddess concept on hold and had a comeback with a womanly feel. While 'Mr. Chu' showed off their fresh and innocent charms, 'LUV' captured males with their mature feel. Even without exposing much skin, they were feminine and full of sexiness.
1.
[+608, -17] I'll never forget you guys.. Eunbi and Rise... they remind me of my dongsaengs so my heart hurts
2. [+487, -21] But now we need a group that fits in between all that with musicality as well..
3. [+407, -32] How random of comparing A Pink at the end

ㅋㅋ

The level of the journalist, sigh... I don't know if it's because the journalist fucking sucks at writing or if it's to earn some cash by making Girls Day fans and Pink Pandas fight in the comments..
4. [+364, -128] And there's A Pink in all that with an innocent concept

ㄷㄷ Amazing
5. [+302, -103] Hopefully they'll come out with a concept like A Pink's
6. [+39, -14] Sexy this, sexy that. I'm sick of it now. These days, I lean more towards A Pink, f(x), and SNSD....it's always about sexy
7. [+43, -3] It's not always good to be all about the innocent concept because people can get sick of groups with only one set look. It's the best showing different looks like what 2NE1 or SNSD are doing.
8. [+35, -1] Journalist, why don't you match the pictures with the words. It's about SNSD but there's an EXID picture.
9. [+36, -8] Everyone seems to think innocent concepts are amazing.. that concept is impossible without the power of the company.. and also, since the first generation of idols, innocent concepts were originally used rather than sexy.. Girls Day is amazing because they match with anything and A Pink is amazing because they continue on with the innocent look
10. [+35, -7] Rather than singers that strip and dance.. I want singers that have vocal talent