[Naver: X Sports News] (Gayo Daejun) Epik High X Kim Yoojung, confident breakup repertory, 'Happen Ending'
1. [+309, -16] Honestly, why is Kim Yoojung performing there
ㅋㅋㅋㅋㅋㅋㅋㅋㅋㅋㅋㅋㅋㅋㅋㅋㅋㅋㅋㅋㅋ
2. [+218, -21] Why are they adding Kim Yoojung to an already complete Epik High
ㅠ
;
3. [+196, -7] Ah, Happen Ending has its own charm with Jo Wonsun's voice, but that feeling is lost with Kim Yoojung singing it
4. [+196, -7] Oh~~~~ Totally random~~
5. [+128, -26] Seems like Yoojung will get to meet Bobby ^^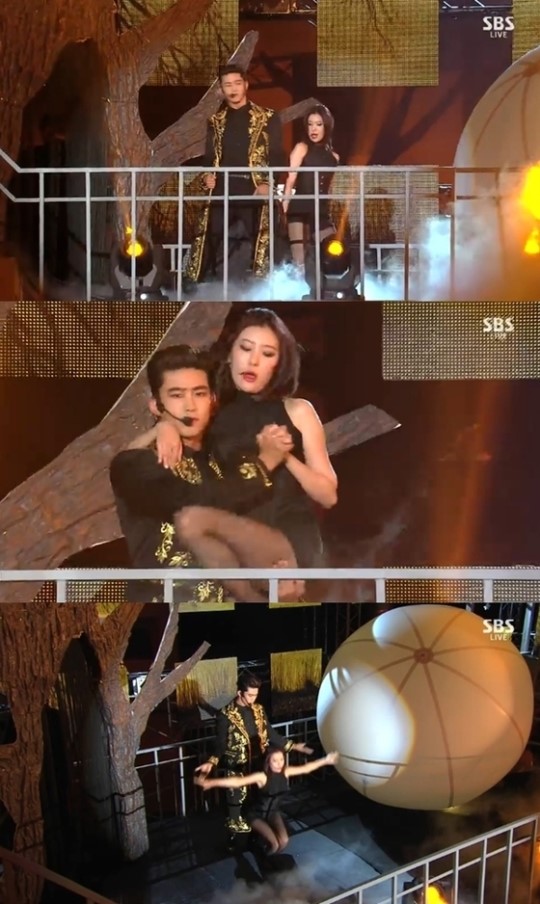 [Naver: news 1] 'Gayo Daejun' Sunmi+Taecyeon's sensual 'Full Moon' couple performance
1. [+604, -7] I can't hear their singing

ㅋㅋ

And the camera recording is all over the place
2. [+493, -13] I don't like this year's Gayo Daejun

ㅡㅡ
3. [+475, -7] Didn't they do a rehearsal.. why are they like this when they're performing in an awards show that only takes place once a year
4. [+341, -7] The pictures that are chosen are always like that

ㅋㅋ
5. [+245, -18] Sorry for not being able to protect you Taecyeon....

ㅠㅠ
6. [+59, -7] I like both Sunmi and Taceyeon but....for real, the fans can record better than this...
7. [+60, -16] I really think Sunmi's stage was the best.. please show us a nice stage next year as well.. she matched well with Taecyeon too..all of JYP's songs, let's hit daebak next year..

[Naver: OSEN] Taeyang and Ailee wins the best male/female solo award [SBS Gayo Daejun]
1. [+515, -43] So it seems like they can't give it to IU since she didn't attend.... but Ailee's deserving of it as well!!
2. [+444, 69] What about IU..........? What's the point in even doing an awards show..
3. [+382, -57] But, excuse me, what about IU?
4. [+342, -60] What about IU?? This year's Gayo Daejun is a failure;;
5. [+328, -56] It's a relief that IU didn't attend this kind of trashy awards show.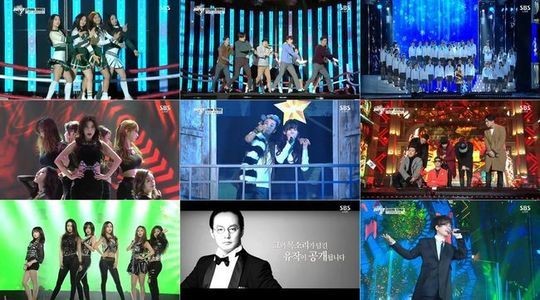 [Naver: OSEN] (Yesterday's TV) 'Gayo Daejun' Performance relay...were they too ambitious
1. [+9300, -1601] 1. Super Rookies sound system accident 2. Taeyang's sound system accident 3. EXO's lacking live singing 4. EXO's crazy wins
2. [+6160, -125] The broadcasting condition and stages were all the worst
3. [+5667, -109] It wasn't better than a university festival. The sound system and camera angles and even the editing were a mess. It's definitely going to get compared with Totoga next week. I didn't expect much but I didn't know it was going to be this bad

ㅋ
4. [+5981, -1657] Who says SBS = YG

ㅋ

ㅋ

ㅋ

ㅋ

SM is the one who has a hold of all broadcasting networks

ㅋ

ㅋ

ㅋ

I'm sick of you SM suckers, sick of it. Are you guys able to say SBS pushes YG now?
5. [+3453, -85] I don't even know what the cameras and sound systems were doing, really, yeah...good job. tsktsk
6. [+1231, -193] They gave the daesang to lip syncing singers

ㅋㅋㅋㅋㅋㅋㅋㅋㅋㅋㅋㅋㅋㅋㅋㅋ
7. [+972, -25] Why are there five people MCing...so hectic and loud I almost died...