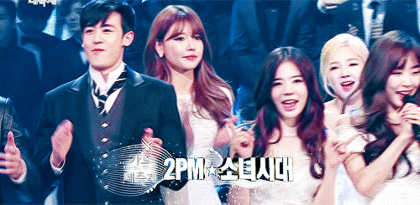 "She's pointing at Nichkhun and Tiffanyㅋㅋㅋ Is it a coincidenceㅋㅋㅋㅋㅋㅋ
I support this couple!!!"
Requested
1. [+103, -0] How nice to seeㅠㅜ I feel excited looking at themㅋㅋㅋㅋㅋ Sunny wanted to give up her middle spot but I feel like Tiffany told her to just stay thereㅋㅋㅋㅋㅋㅋㅋ
2. [+90, -4] Sorry for being a fan that searches for these kinds of things... but don't they look really good together?? Hopefully they can go on till m..marriage....
3. [+41, -5] SNSD were daebak pretty during their Mr.Mr. stage at the Gayo Daejun.... all members were seriously pretty...they're not called SNSD for nothing.
4. [+35, -22] Honestly, Tiffany's a waste. Nichkhun was in a drunk driving scandal and was all like I don't know how to speak Korean~~~
5. [+35, -0] Jealous.....
6. [+25, -3] I think they're in such a pretty loveㅠㅠㅠㅠㅠㅠㅠㅠㅠㅠ...even with Nichkhun's past. Do well.
7. [+21, -1] It looks like she's saying Huh~? These two~~??ㅋㅋㅋㅋ
(TN: I think it's a reference to a Gag Concert catchline in the skit 'Badump Badump')
8. [+18, -0] Isn't she just dancing with her fingers out like that? I think it's just a coincidenceㅋㅋㅋㅋㅋ How funnyㅋ
9. [+15, -0] ㅜㅜThese two have the visuals and match each other..ㅠ
10. [+14, -1] This is a couple that I personally likeㅜㅜ They look so pretty together..how satisfied would Tiffany and Nichkhun fans be..Ah, and also, I really like Tiffany. I feel like she takes care of her members a lotㅜㅜ I watched The Taetiseo and I could tell how much she contributed to the unit group..from the clothes to the accessories to the photoshoots..