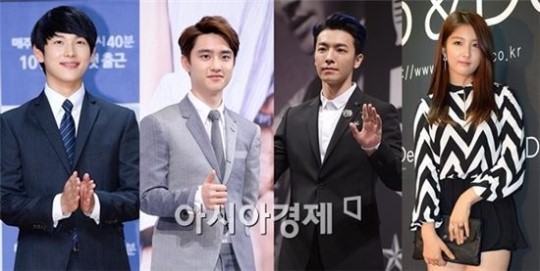 [Naver: Asia Gyungjae] Acting idols, how far did they develop
The most active of the acting-dols is, of course, Im Siwan. He stars in tvN's Fri-Sat drama 'Misaeng' as an office worker by the name of Jang Geurae, a character that many can relate to. As a ZE:A member, however, he did not get as much attention. It all changed for him when he started acting in MBC's 'Moon Embracing the Sun', KBS2's 'Man from the Equator', MBC's Triangle, and in the movie 'The Attorney'. He is growing as an actor through his experiences. It's even hard to imagine Im Siwan not playing Jang Geurae in 'Misaeng'.
Do Kyungsoo also received praise as having stable acting skills through a small role he played. He touched viewers in SBS's 'It's Okay, That's Love' and in the movie 'Cart'. Even though he is working with the biggest seniors, he was able to absorb his character well.
There are also movies filled with idols that receive positive feedback. Super Junior's Donghae, 4Minute's Nam Jihyun, and FT Island's Song Seunghyeon are cast in 'The Youth'. It received a hot response.
--
1. [+423, -44] Im Siwan is seriously the best..
2. [+401, -40] I'm okay with idols in supporting roles but not as leading roles. Well if their acting ability is as good as Im Siwan's, then I wouldn't care but shouldn't actors have first priority...
3. [+231, -22] Besides the few idols that act well, please use actors in movies.. as a person who enjoys movies, I seriously don't like watching idols and their feet acting.
4. [+318, -38] Eh, Im Siwan is the best.....
5. [+291, -36] But idols are idols.. it's more comfortable watching actors acting
6. [+58, -4] I like Nam Jihyun but out of all the female idols I've seen act, she's the worst
7. [+60, -20] If they're not at Im Siwan and Lee Joon's class then just.......
8. [+47, -8] But the fact is there are a whole lot more feet acting-dols