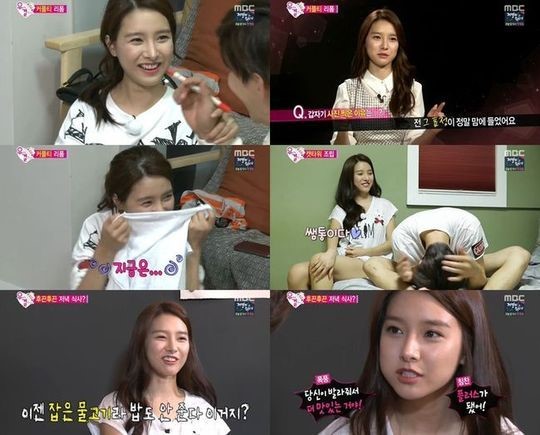 [Naver: OSEN] 'WGM' Kim Soeun, did you ever see such a charming and cunning lady
1. [+337, -9] Kim Soeun and Song Jaerim are the most fun to watch
2. [+248, -13] She's pretty and even has a good personality....ha

ㅠ
3. [+222, -6] They're fun to watch but please increase their airtime!!
4. [+196, -9] I think Kim Soeun and Song Jaerim could become a real couple.
5. [+163, -9] They make me want to raise a cat.
6. [+64, -3] I think that the Song Jaerim and Kim Soeun couple best fits WGM. They don't seem fake but it's not like it's undistinguishable whether they're friends or a couple. And more than anything, they don't seem like they're acting. They seem the most natural so I like them. I hope this couple stays in WGM for a long, long time.
7. [+54, -3] They seem like they knew each other for a long time and aren't awkward around each other, they seem natural. It was funny when they were laughing when she called him perverted.
8. [+52, -4] I think they can go ahead and only broadcast this couple

ㅋㅋ
9. [+51, -5] They're the most natural and real couple

ㅋㅋ
10. [+42, -1] If they were actually 100% acting then the male and female acting award goes to the Song Jaerim and Kim Soeun couple.