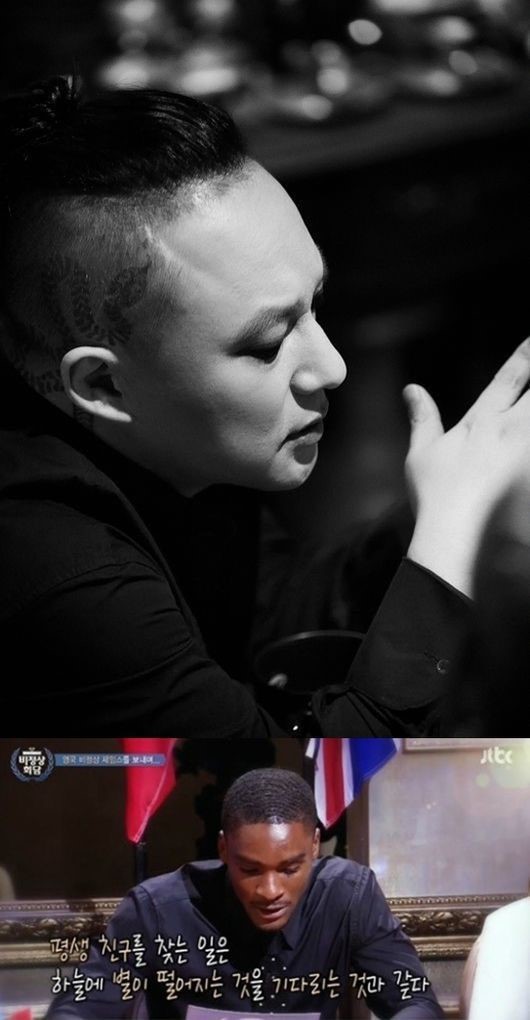 [Naver: OSEN] Sam Okyere on Shin Haechul "It was an honor to have been on a show with him"
Sam Okyere wrote on his SNS: "It was an honor to have been on a show with Shin Haechul hyungnim. Hyungnim, go to a place that gives you no pain and stay happy. It seems like I can only express my sadness because I have to let go of this good connection. I will pray for you hyungnim. This is what James said when he left the show but... I want to dedicate this poem to you, hyungnim: 'Finding a lasting friend is like waiting for a shooting star. Those kinds of friends protect you from even the unexpected roaring waves of the sea and gives you happiness and joy. A lifelong friend is an immeasurable blessing and worth more than the universe. Their existence in our lives is a never-ending free versed poem."
Shin Haechul was found unconscious from cardiac arrest. He was moved to Asan Hospital to receive treatment and an emergency surgery. On 8:19 p.m. of the 27th, Mawang (the Devil) has passed away.
--
1. [+233, -5] Wasn't 'Abnormal Summit' the latest program Shin Haechul appeared in laughing away?? I believe that he will be in a better place..
2. [+200, -3] Just a few weeks ago he came out on 'Abnormal Summit' as a cute ahjusshi and so I looked at him positively...rest in peace. Be at a better place and rest comfortably.
3. [+145, -5] As expected, Sam Okyere even has a kind heart
(TN: Ah...from Ochiri to Otswiri to Okyere.... sorry guys. From looking at his instagram, I guess it's actually Okyere ;;)
4. [+118, -2] Mawang-nim, rest comfortably...rest in peace
5. [+29, -1] It's such a shame.. rest in peace
6. [+26, -1]

ㅠㅠㅜ

But not too long ago I saw him on 'Abnormal Summit'

ㅠ

Whenever there's a rerun of that episode, my heart will ache...