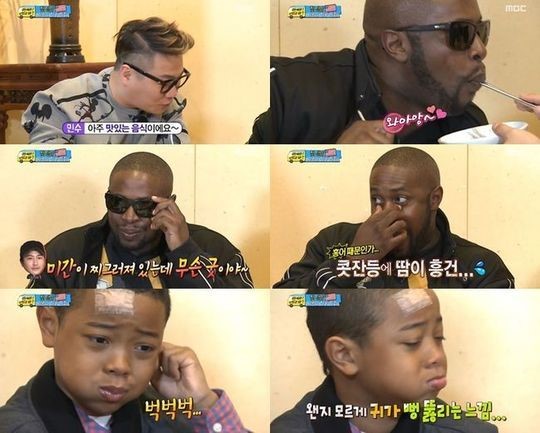 1. [+18149, -459] Even a Korean person like me still can't eat honguh (fermented skate) so that was too much. There are lots of other delicious foods, eh!!
2. [+17032, -401] Honestly, that was a bit too much. Giving a foreigner something as hard to eat as honguh....
3. [+16187, -379] Would you like it if you visited China and they fed you things like grasshopper skewers...
4. [+13177, -275] But there are lots of Koreans that can't eat honguh.....

ㅋ
5. [+9861, -340] Is today honguh day or something

ㅋㅋ

It came up in Roommate as well, everywhere there's honguh
6. [+2103, -62] You'll feel great if our country's celebrities went to China for a program and the Chinese MCs fed them stinky tofu and laughed and talked about it together, huh? When that happens, you'll call Chinese people rude, right?
7. [+2041, -37] Think about when you went to New Zealand!! When you were home staying, the family was considerate enough to purposely make things like rice salad.. think about how you guys told them to try honguh and snickered about it amongst yourselves...the answer will come when you guys place yourself in their shoes..
8. [+1792, -53] Look at them snickering away when we can't even eat things like honguh. Then why didn't you guys feed it to Hoo and Rihwan as well
9. [+1718, -56] There are lots of delicious Korean foods though...why of all things did it have to be honguh, something only a few like...
10. [+1591, -28] When Yoon Minsoo said "One more?" the black hyung then again accepted it...

.ㅠㅜ

he's really nice