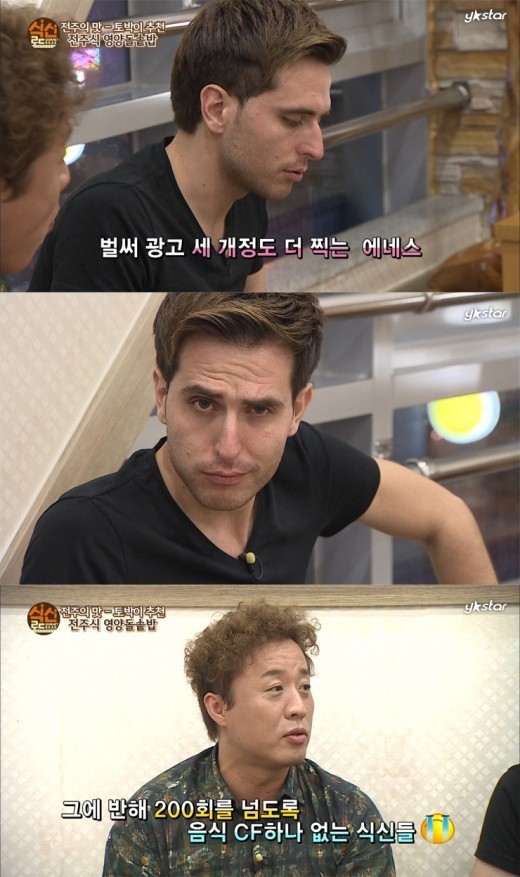 [Naver: TV Report] 'Abnormal Summit' Enes, proves himself as the bluechip of ads "an addition to 3 more"
Enes and Robin appeared on Y-STAR's 'Gourmet Road' special Jeonju episode.
When the MCs asked Enes if he feels how popular he is, he said that he "...already filmed for many different ads" Enes went on saying that by the time 'Gourmet Road' airs, he "...might have been done with filming three more ads"
Robin commented that he filmed an ad for a shopping mall and said that "You can probably find my face on the streets"
1. [+6915, -53] Alberto filmed an ad for Mr. Pizza so I hope Robin gets to film one for Paris Baguette

ㅋㅋㅋㅋㅋㅋ
2. [+5162, -55] The Abnormal Summit members are really the trend these days..
3. [+3548, -55] As expected, Enes proving that he's the trend

ㅋㅋㅋ

:)
4. [+2770, -54] They're really doing well~

ㅋㅋㅋㅋ

Lucky for them
5. [+2278, -14] Tyler should film one for an after school or for workbooks
6. [+380, -13] Enes married in the same wedding hall as ours but at that time, he seemed really nice and had manners..he spoke well so he really seemed like a Korean person

ㅋㅋ
7. [+352, -15] Enes speaks Korean the best!! Aigoo

ㅋㅋ
8. [+338, -2] Julian also seemed to be a model for Dunkin Donuts?

ㅋㅋㅋㅋㅋ

I got surprised while passing by Dunkin Donuts because I saw a duck

ㅋㅋㅋㅋㅋㅋ
9. [+333, -6] Enes speaks better than me
10. [+315, -4] Guillame has to pay off his debt though
ㅠㅠ